Designing the bedrooms in your Care Home requires you to consider a range of factors. The rooms in your home should be safe, attractive and inviting.
In general, purpose-built, modern accommodation is often preferred over 'guest house style' accommodation with a bland and outdated appearance. Your Care Home has a duty of providing convenient rooms that have personality and seem inviting for your service users.
Here are some essential tips to follow when decorating your accommodation:
A starting point for designing your bedrooms is identifying a fresh and inviting colour trend for the room. You should look for beds that are appealing. It is ideal to choose a wood colour for the bed that will match the bedroom furniture. Dull, hospital-like equipment can often dampen the environment of a care home. You should look for furniture and equipment that will blend in with the home's existing or proposed interiors.
You may want to start by purchasing essential furniture in a specific wood colour, such as the following collection in French Walnut.
Valencia Dressing Table Valencia Gents Wardrobe Valencia Single Headboard
Your colour theme for the room should then be expressed through the cushions, bed throws, curtains and a painted wall. Having personal items in a bedroom such as photos, a hairbrush or a favourite book can provide reassurance and remind the person with Dementia of which room they are in. Providing a clock that is easily in view and set to the right time can help someone make sense of the time of day.
Ensure the rooms have natural light
The design of the rooms should maximise natural light. It is essential for lighting to be domestic in character, sufficiently bright and positioned to facilitate reading and other activities. Our bodies are wired to react to the natural light and this same reaction can be recreated using artificial lighting. Lighting can therefore often be one of the most helpful hints to the body's circadian rhythm. Warm reds and oranges in the morning help imitate the sun and wake up the body. It is also essential to ensure that any lights in the room cover the entire room. Poor lighting can increase anxiety and may lead to trip and fall accidents if people cannot make sense of what is ahead of them.
Make sure the rooms are suitable for everyone
There are more factors to consider than simply the appearance of your accommodation. It is important that the design of the room, selection of equipment, signage, internal colour and landscaping should enable the independence of people who have mobility problems. It is important that the design suits the needs of those who are physically frail or may have visual or cognitive impairments. People with Dementia, in particular, may find it difficult to find or identify their own bed. It is recommended that you invest in bed covers in a colour that contrasts with the carpet. You should use contrasting bed linen and sheets to help define clearly the sleeping area. The individual should be able to see their bed easily from as many locations as possible and access it from both sides.
Seniors often find it difficult to sit in a chair that is unsupportive or uncomfortable for a long period of time. Chairs for seniors should be comfortable and made with rounded timber or padded upholstery in a strongly contrasting colour.
Here are some examples of upholstery chairs that are designed to make seniors feel comfortable:
Keel Chair Ashby High Back Chair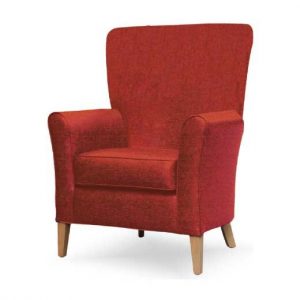 Howden High Back Chair
It can be incredibly useful to install additional insulation in the walls of the bedroom, ceiling and flooring to provide both a comfortable climate and noise buffering. Drop-ceiling panels in finishes such as embossed tin allow you to insulate and decorate at the same time. Hanging a quilt on the wall introduces vintage design into a space and helps keep outside noise to a minimum.
People with Dementia can often become anxious and frightened when they see their reflection in a mirror because they may not recognise the person who is looking back at them. If mirrors are a problem, you can cover or remove them.
Put yourself in the shoes of your residents
When you have designed a plan for your accommodation, it is useful to put yourself in the shoes of the seniors and answer the following questions:
Can a person get in and out of bed easily?
Is the bed too close to a heater?
Would you be able to sit whilst dressing to prevent falls?
Is there the possibility of tripping or falling over wires, throw rugs or clutter?
Is there plenty of storage for clothing and other items?
Is there natural light and can I easily see outside?
If you answer "no" to any of these questions, it may be useful to revise your design in order to design rooms perfect for your residents.
You can read our blog for additional factors you need to consider when decorating a Care Home.