Seniors with Dementia or declining mental health can often begin to neglect their personal care and hygiene. They may start to wear the same clothes repeatedly or forget to bath and wash. However, personal care is an important aspect of maintaining good health and hygiene.
Here are 5 tips you can follow to encourage good personal hygiene care for the elderly:
1.    Ensure the bathroom is safe for residents to use confidently
The fear of falling or slipping can often be enough to prevent seniors from using a shower or bath altogether. This is particularly common in individuals with Dementia. Ensuring you have equipment in the bathroom to aid residents is vital in encouraging frequent washing. You may want to invest in the following equipment to ensure your bathroom is safe and accessible:
-Handrails. These can provide sturdy reliability while using the toilet. You can find handrails in the market that are suitable for visual impairment and are dimension friendly. These are often designed in bright colours such as blue, red and white to ensure they are visually clear.
-Raised toilet seats. Raised toilet seats can make it easier to for residents to sit down and stand up when using the toilet. People who find it difficult to sit down or stand up will hugely benefit from a raised toilet seat as these seats simply make the toilet higher.
-Use clear labels. Navigating a building to find the shampoo or even where the bathroom is can be frustrating for seniors with Dementia or memory loss. It can be useful to place a label on the shower, sink or a sign on the door of the bathroom to make life easier for residents.
Countrywide Healthcare do stock a range of orientation signs to assist people with finding rooms and objects. You can shop from our Dementia Care and Activities range here.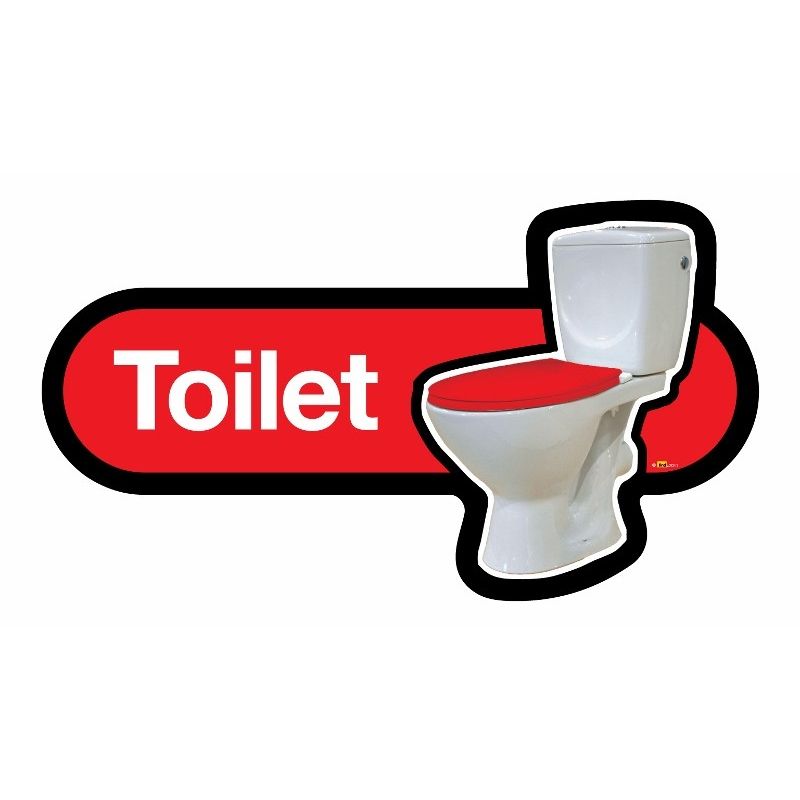 Toilet Orientation Sign
If your residents are less mobile and find it difficult to get to the toilet in time, you should consider toilet aids such as commode chairs and bed pans and urinals to ensure residents always have a toilet that is accessible for them.
Here are some additional tips you can follow to ensure maximum safety in the bathroom:
Avoid using bath oils. These can make the bath slippery and can serve as a serious hazard.
Ensure the bathroom has good lighting. Make sure people can see clearly by ensuring the bathroom has clear lighting. Remove or cover mirrors to prevent residents with Dementia from thinking there is another person in the room with them.
Avoid having any toxic materials in the bathroom or toilet. This includes any toxic cleaning substances such as bleach and laundry detergents. Once you have used these products for cleaning, it is a good idea to lock these away in a cupboard to avoid any accidents from happening.
2.      Establish a routine
Without an adequate routine, people can be left feeling dirty and unprepared. This can even lead to agitation, frustration and depression in seniors. Creating a routine can help people to get used to doing specific activities such as showering and brushing hair. If you looking after a person who lacks independence, you must first establish what your routine will be and then explain it to the person so that they know exactly what to expect. This will help create a trusting relationship and will help the elderly person to relax. Hygiene routines should not seem like a chore or something which has to be rushed. Playing relaxing music might create a calming effect for residents who are anxious or confused. You should also make sure the room is warm and you have towels and bathrobes, etc. to hand.
 3.      Take the individual's life choices in consideration
When providing support with personal care, take the individual's lifestyle choices into consideration respect their choice of dress and hairstyle, for example. It is important for maintaining independence that you allow people to choose their own clothing.
Most people have a strong sense of the clothes and hairstyles that suit their personality and personal preferences. To prevent individuals from having the ability to choose clothes and accessories can be harmful to their dignity and mental well-being. Having a clean and respectable appearance is also key to maintaining the self-esteem of older people. It is important to never make assumptions about appropriate standards of hygiene for different people. Ensure you take cultural factors into consideration during needs assessment.
4.    Handle hygiene activities sensitively
For residents who need help with washing and bathing, remember the importance of dignity and respect. Although you may be used to seeing people's unclothed bodies every day, the patient may not be used to revealing theirs frequently. If you need to assist a person with bathing and dressing/undressing, you must handle the situation with tact. Understand that they will be self-conscious and very self-aware when undressed. Only uncover the areas that you are washing and leave a towel to cover the rest, a dressing gown may be useful for this.
5.    Look for improvements your Care Home can make to improve hygiene
Look at all aspects of hygiene and cleanliness that you can control in your Care Home and consider how you can raise standards. Caterham Dene Community Hospital, for example, are consistent in improving hygiene standards frequently. Staff at the hospital have recently installed new blinds and bed curtains in the inpatient areas that are coated with anti-bacterial agent. The bed curtains in the hospital are dated so that they can be changed every six months, occasionally sooner if there is a patient with an infection nursed in that area. Standards of hygiene are monitored and regularly reviewed to ensure that the contracted work meets the needs of the hospital. There is a regular schedule, and audits are carried out to ensure that procedures are being followed.
You can read our blog here for advice on infection prevention in your care home to improve hygiene.